A cafe with a resident cat is simply better than a cafe without one – a fact one learns in Amsterdam.
Some questions are impossible to answer, like what is your favorite band or favorite food. Favorite city should be one such stumper, but whenever I'm asked, the answer slips out easily: Amsterdam.
I recently spent five days in the watery, Dutch city and that answer has only grown more resolute.
---
My first King's Day, the Netherlands' biggest event, and the gods were trying to rob it.
Queen's Day…I mean, King's Day (as of 2014) celebrates the King's birthday with a mixture of street parties and mostly unregulated commerce: April 27th is the one day of the year when any average Joe is allowed to sell goods without a permit. Residents roll out at 6am, setting up stalls and hawking anything from shoes to jello shots.
On that morning, we awoke to sunshine and the hail, thunder and lighting (oh my!) never rolled in. We hit the street with our rented cotton candy machine, looking like top-notch drag queens in our pink wigs and matching makeup.
Making cotton candy is as fun as it looks, until you have a line of sugar-hungry children, the wind is blowing and your half-finished cotton ball escapes the stick and floats away, a pink cloud in the sky. Luckily for our product, it hardly rained, a less fortunate outcome for the pessimists who had chosen ponchos as their merchandise of choice.
Never having experienced a King's Day, I could only compare it to the debacle that is Cologne's Carnival, Luxembourg's national holiday or a large-scale UCLA event. The selling aspect is an unexpected twist, but the second half of the day fits the bill for an all-out national celebration, with a scattering of DJs and twirling cover bands performing on stages throughout the city.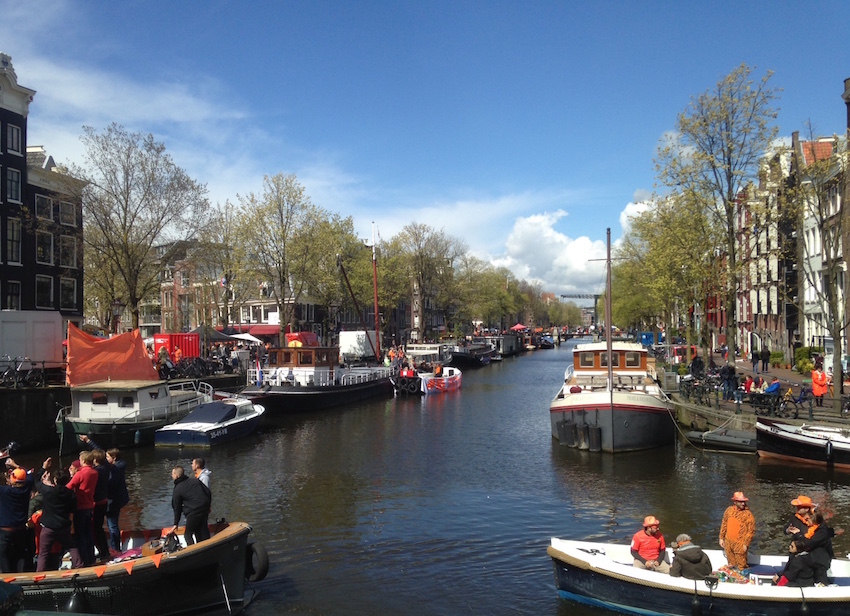 Each stage is enveloped by a throng of partiers, high on beats and fatigue — don't forget that King's Day is preceded by King's Night. This year's night-long celebration had had its share of rainfall, but not godawful, the-sky-is-falling rainfall, Bacardi commercial rainfall that adds to the mood but not your discomfort.
As we explored the city in the afternoon, nearby music lured us from one stage to the next, from one island of bodies to another, until we found ourselves home, in bed, tired and content.
Walking around Amsterdam, even on a normal day, is enjoyable but hardly relaxing. If there's not a car coming, there's a bicycle, or a throng of bicycles that, once underway, doesn't seem to cease. After a day on high alert, I found myself looking left, right and up before making any decisions as major as changing my trajectory on the sidewalk.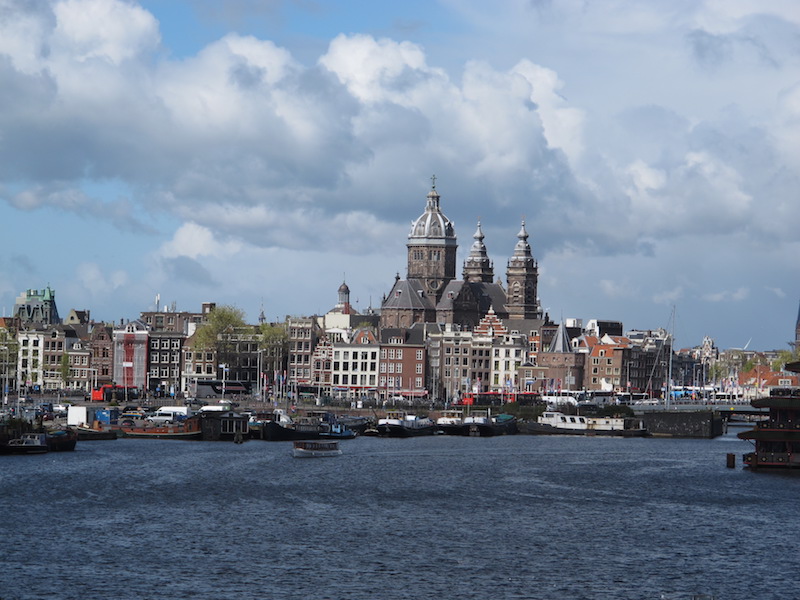 Despite the "dangers," Amsterdam is one of the most rewarding cities to explore by foot — not because of the architecture or waterways, because of the curtainless windows, a manifestation of the open culture. Walking the streets after dark and peeping into old canal homes is a thoroughly enjoyable low-budget pastime. Witness raging parties, low-key movie nights and family cuddles on the couch. Peak in and revisit the moments that seem so foreign when you're far from home, or far from childhood but not old enough to accept it yet.
On this visit, after some motivation from some motivated friends, I finally made it to the Anne Frank House, founded by Anne's father, Otto, who lost his entire family at the bitter end of the war when the sigh of safety was almost audible. After a failed attempt at escaping to the US, they opted for hiding, a decision that was almost the right one, assuming there were any. As I waited to sign the visitor's book, a small red-headed boy no older than eight took a solid ten minutes to complete his entry. When I finally stepped up to the book my annoyance faded. He had written a full page in Hebrew, from one Jewish child to another, two innocent youths with two completely different experiences separated by only 70 years.
Each evening of exploration ended with the perfect, wood-paneled cafe materializing on a quiet canal or unassuming street corner. The bartenders were welcoming, the cats were indifferent and the beer was surprisingly delicious, whether it was Belgian beer or Belgian-inspired Dutch beer I can't be sure. Whatever it was, it left an impression.
On our first evening, as the storm raged outside, I looked down at the cat asleep on my jacket that had slipped to the floor, then at the bartenders bantering goofily in perfect English, then at my circle of candle-lit friends and my dewy mug of local brew…and I was happy, Amsterdam happy.
So when I say I love that city, I'm not sure if it's because of its beauty, its lifestyle, its openness or simply because of the moments it has fed — moments in cozy cat cafes that beckon you inside, keeping you warm and happy just as a storm crescendos.