Google Manali–Leh Highway and the first couple of hits you'll find include dangerousroads.org and thrillophilia.com, the sort of websites whose hyperboles I tend to take with a grain of salt. As I noted the rusted underbellies of the vehicles in the ravine below me, however, I had a change of heart.
For foreigners and wealthy Indians with the option of flying, the choice to instead ride a bus for the 297mi (478km) stretch from green, misty Manali to arid Leh may seem like an odd one, especially to locals.
Traversing the world's second-highest motorable roadway was never on my bucket list, until I realized it was on everyone else's, at least those on the Asian travel circuit, so I shamelessly jumped on the bandwagon.
The two-day drive is a breeze for those who don't get carsick and for whom bathroom breaks and oxygen are nonessentials.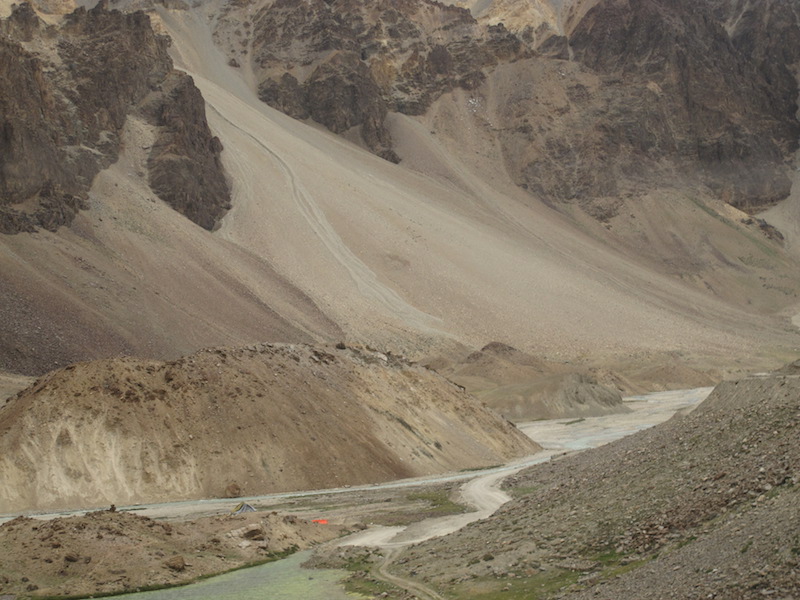 One of only two roads that connect Ladakh to the rest of India, the highway is the product of sheer will. Its development and upkeep, to counter annual devastation by landslides and extreme weather, is a project so demanding that it falls under the responsibility of the Indian Army. The road boasts the ability to support even the heaviest army vehicles, a claim I questioned multiple times while watching rock and sand roll down the slopes as a tire neared the edge.
Our bus left from central Manali on August 10th. The air was fresh and moist, the thick surrounding forests engaged in keeping it that way. By purchasing a more expensive ticket, we'd ended up on a bus where everyone had a seat, a luxury in India. It was decent, but no newer than the rainbow-colored public buses edging in around us.
To give a complete account of this particular experience, to serve up a full-flavored slice, I'll include the beginning. It might seem like a tangent, but I'm starting to think that the mind and travel exist only as a collection of digressions.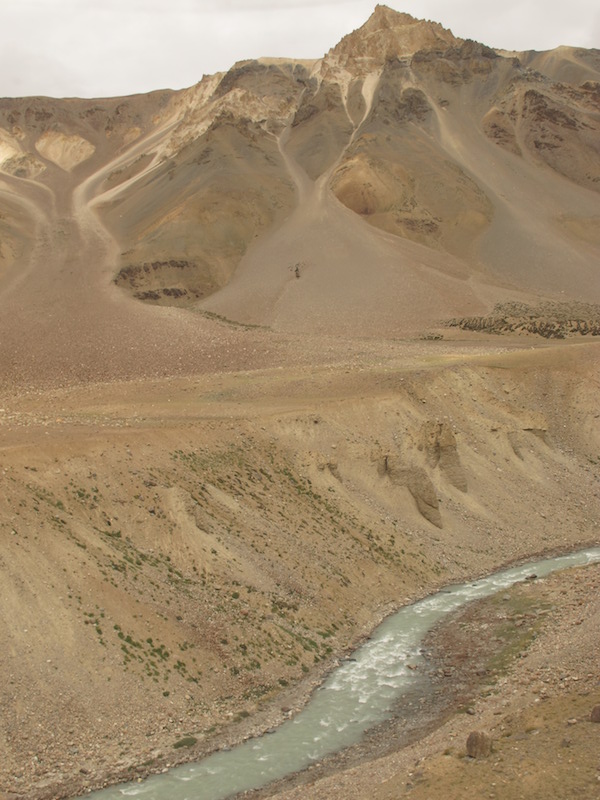 While sitting in the bus and waiting for our journey to begin, I could feel in my ears and my muscles that a cold was setting in, so I stocked up on Coca Cola and Lay's to tide me over for the two days. Looking out the window and nibbling at my potato chips, I made eye contact with an annoyed looking Indian man who was waiting to board his bus.
I registered his intensity but was still surprised by what happened next. Standing about 20 feet away, he whipped his manhood out of his pants and shook it at me angrily, causing me to blow pieces of chips onto the window as I snorted in disbelief and confused amusement.
I tapped Boris on the shoulder, but the angry flasher noticed and quickly turned away, only to  begin again when Boris looked down. After a couple more rounds of this and not wanting to appear insane, I chose to ignore the flasher, who I could still see flailing out of the corner of my eye. Our bus finally started moving and I went back to eating my chips.
The itinerary had us overnighting in Keylong at 10,800 feet (3,300 meters) to help us acclimatize after the 3,300 feet (1006 meters) climb from Manali. We slept in tents and departed at 4:30am the next day, the effects of altitude still a figment of our imagination.
Separating us from Leh were four passes: Baralacha La (16,500 feet — 5,030 meters), Naki La, (15,546 feet — 4,739 meters), Lachulung La (16,616 feet — 5,065 meters) and finally, Tanglang La, a whopping 17,582 feet high (5,358 meters), about 30 feet shy of Everest Base Camp's altitude.
The beauty of trekking to that height is that the human body has time to acclimatize, a luxury that is snapped away when driving. The ramifications of climbing nearly 11,000 feet (3,353 meters) in 24 hours can be jarring.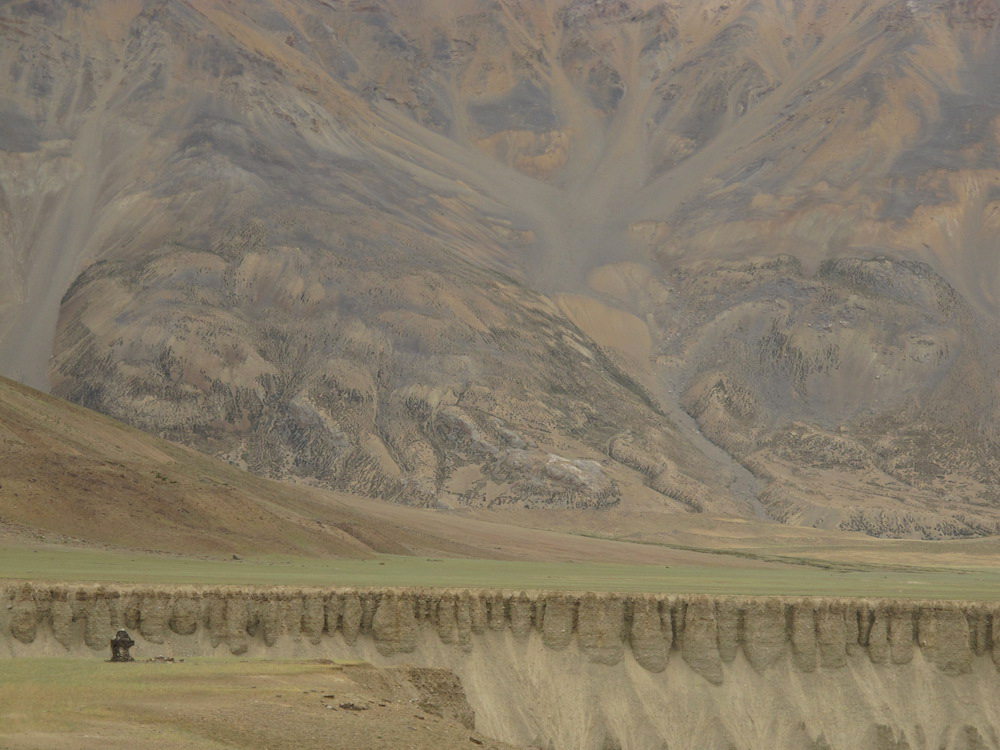 With each pass came a weird excitement to see how my body would react, the sinuses in my forehead already squeaking and popping in an attempt to adjust to the unfavorable conditions. When considering the mountains we were plowing through, it was a comfortable ride. Aside from comfortable, a very relative concept, it was spectacular: swirls of multi-colored minerals flowing together down mountainsides to form giant masterpieces, like the sand art kits from our childhood except with mother nature as its creator instead of a six-year-old girl.
Anyone with a pulse could look out the window and over the ledge – so close that the ledge itself was invisible – and feel something. For me it was a deep relaxation, knowing that I'd committed to giving the wiry, 20-year-old bus driver my complete trust. Goodbye, survival instincts.
I was reminded of a bus ride in Nepal, home to some of the most treacherous and neglected mountain roads. When two vehicles meet on these single lanes, a battle of angles, chance and guts ensues. We'd ended up on the outer edge, cliffside. The drivers were yelling at one another above the unconcerned chatter inside the bus.
Suddenly there was a hush and everyone froze as we felt the odd sensation of teetering. Eyes turned toward me, the only foreigner, curious how I would react. We were so high that the stream at the bottom looked like a white thread. The cabin was overtaken by a stillness, a sense of patience and a distant curiosity as to how this would pan out. Time stopped. Then someone yelled and we got off to let the driver work his magic with a lighter load. This scenario would play out three more times in the next few hours.
Now, whenever I hear of a bus careening off of a cliff in Nepal, I wonder if they went down calmly, with a realistic understanding of the perils of everyday life, an understanding powered by Buddhism and poverty. Long story short: The Nepalis taught me how to ride buses.The third main pass on the Manali-Leh Highway is announced by 21 hairpin turns called the Gata Loops, a stubborn road that winds its way up the side of a mountain with complete disregard for your nausea. "The girl behind us is green," I remember whispering to Boris. I had never seen someone turn green, like St. Patty's Day milk green.
Just before the highest of the passes, as the older passengers up front were growing dizzy and restless, a Belgian woman threw up out of the window. Moments later we heard her choke and realized she had passed out. The bus driver refused to stop, so her husband, a doctor, laid her down in the aisle and resuscitated her.
She awoke slowly and bus staff insisted that the only thing to do was continue on and then descend. The doctor drained his supply of altitude medicine, giving it to anyone in need. We were in this together and forged ahead, until we got a flat tire…
There's something about the enduring beauty of natural landscapes that can make you feel small but also let you overlook your own mortality. It's like a drug that keeps the human race exploring. Climb aboard a Manali-Leh bus and feel the high.
---