"Avoid hiking at night. Mountain lions are nocturnal, humans are not," said Google. Great.
Few things are more humbling than basking in the beauty of California's wild northern coast, but basking in its beauty after sunset might just qualify.
If you want to travel back in time or just see what you're made of, follow these steps*:
Drive out to a forest, national park or other uninhabited, uncultivated space
Wait until it's dark and everyone has left
Go for a walk
Simple.
I tried this with some friends a few days ago, albeit by accident, and nature sent us home with a gentle warning, a sense of perspective and a friendly reminder that, despite all of mankind's progress we were still just three ill-equipped humans wandering through the animal kingdom.
The sunset had been glorious and we'd accepted that we wouldn't make it back to the car before nightfall. As soon as the light was gone the fields came alive. Point Reyes National Seashore seemed to transform from a popular, family hiking destination into The Wilderness, home to animals, zombies, mystical creatures, ghosts and all things not human.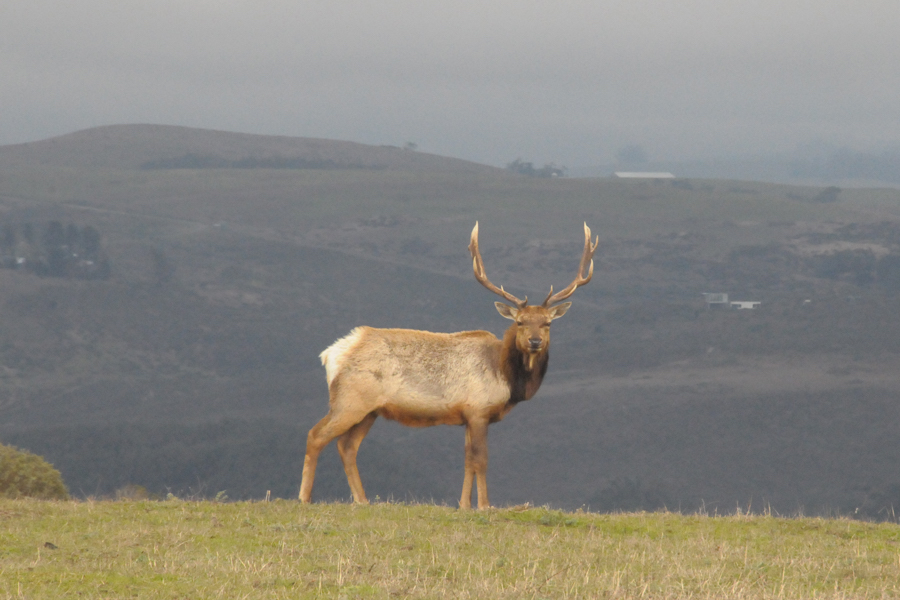 In what little color remained in the sky we could see the outline of what resembled a large, still cat – and with that the cheery effects of the day's beautiful views vanished.
Shapes moved around to our left. We shuffled along in a clump, each of us adopting our own strategy: defer to Google, look for a rock and make strange loud noises so that they'd deem us either too dangerous or too diseased to eat.
We'd headed out at a leisurely pace five hours earlier, stopping to enjoy well-deserved snacks, beverages and photo ops along the way.
The 9.5-mile hike starts at a picturesque, decommissioned farm with white-washed wooden buildings screaming to be photographed. After the first curve the views open up as you look out over the no-nonsense cliffs and hardy waves.
Soon, you spot the white Tule Elk, their regal antlers silhouetted against the ocean.
Then you notice the birds, who refuse to be overshadowed by the elk. With a prime position on the Pacific Flyway — a migratory route that stretches from Alaska to Patagonia — the peninsula has a species total greater than the species total in each of 40 US states.
The beauty crescendos as you near the point and the strip of land you've been walking on gets narrower and narrower, soon resembling an actual strip of land.
When we couldn't go any further we knew we'd arrived. The midway point of the out-and-back hike is also its apex and the end of the line.
This is Tomales Point, and it's truly a point — not a rounded stub, a pseudo point or a multitude of conglomerate points.
The Pacific stretches out to your left, occasionally pockmarked by a ship heading to Alaska or elsewhere. To your right is more water, separating you from a parallel stretch of coast with precariously hanging communities.
It's not just water that divides these neighboring cliffs from one another. A particularly menacing divide, the San Andreas Fault, sleeps below the surface between them separating the Pacific and North American tectonic plates.
Ahead of you is another point, probably with its own hikers standing in the wind and gazing across the water back at you.
Good luck fighting off those transcendental thoughts as waves crash over the tide pools, birds skim the water's surface in unison and powerful winds seem to be holding you up…Or you could just give in to the urge and follow Thoreau to the edge of introspection.
Point Reyes Peninsula has had quite the life. About 50 million years ago it wanted a change, so it hitched a ride from Carmel on the Pacific plate and headed north at a humble pace of a mile every 600,000 years or so.
For awhile it was home to the Tule Elk, until they were wiped out by settlers in the 1850s.
5,000 years before that it was home to the Coast Miwok people, until they were wiped out by the Spanish.
The latter offense was permanent, but the former was reversed. In the 1870s a farmer named Henry Miller discovered a herd of 30 Tule Elk, years after their supposed extinction.
In the 1970s some Tule Elk were slowly relocated back to their home in Point Reyes, where they now thrive near Tomales Point.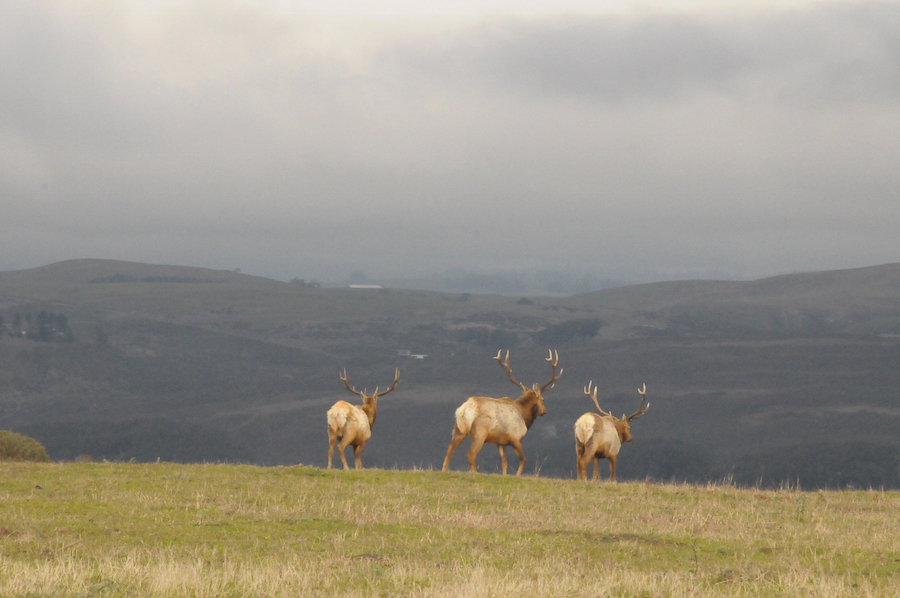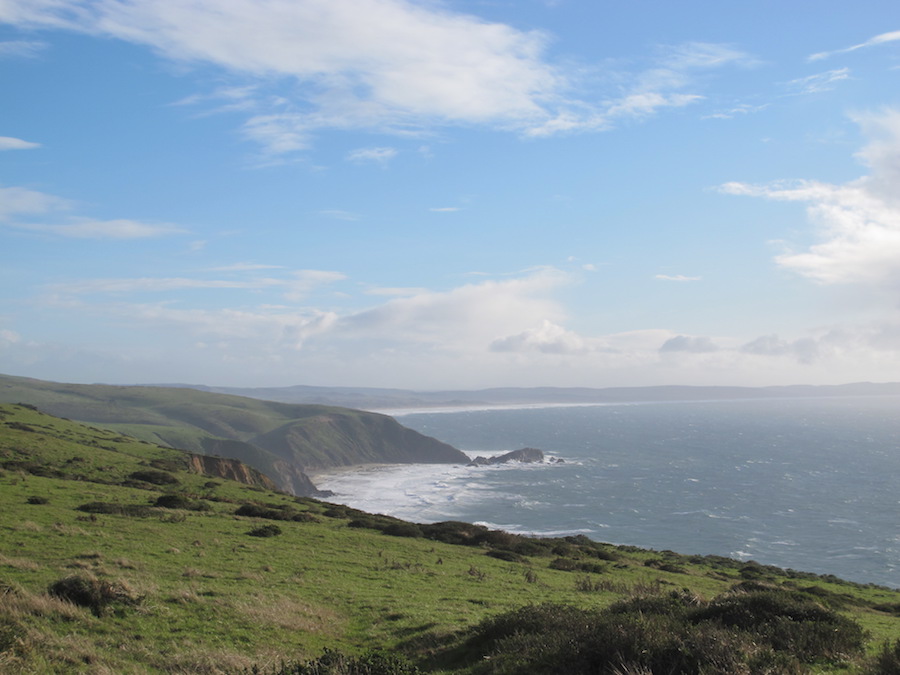 The peninsula will keep slipping and eventually belong to Alaska, but for now it's ours (sorry 'bout it Carmel) and we'll enjoy it while we have it.
I've been breaking my own blogging credo by resisting the urge to write about the Tomales Point Trail. I grew up here. It's just right there. I have to pick someplace new and foreign. Blah blah blah. No, Natalia. This website celebrates the world near and far and distance, after all, is relative. One person's far corner is another person's backyard, and Tomales Point, I'm grateful to say, is mine.
When my two friends came to visit, we beelined for the peninsula. So there we were, staring at a large mountain lion, or panther or sphinx, baffled by how the outing could go south so quickly.
Our peaceful solitude was now lonely; the silence, menacing; the moonlight, eerie…and then the creature turned its head and…it had a muzzle. I'd never been so happy to see a coyote, until I realized how creepy being surrounded by a pack of glaring coyotes in the middle of the night can be. Side note: Coyotes are the size of wiry retrievers, not the fox/cat-like fearful rodents I'd always envisioned them to be.
They were not remotely scared of us, turning their heads towards us intently, giving us just enough space to creep by and leering at us as we continued on down the path.
Our night march was less leisurely than our daytime stroll had been back when we ruled the trail. We walked along with arms clasped, makeshift weapons in hand and our cellphone lights searching the fields for eyes.
Cheers to mother nature for reminding us of the transformative power of a beautiful view and a healthy jolt of fear.
Point Reyes National Seashore is a gem that warrants your time — preferably your day time.
*If you do follow these steps and are subsequently eaten, I take no responsibility. On the bright side you're a badass.