Choosing a trek in Nepal is like choosing which F. Scott Fitzgerald book to read – none are a waste of time, they all have their unique advantages, you want them all at once, you'll always wonder about the ones you've missed and you'll be back for more.
I ended up choosing the Annapurna Circuit – yup, over the Everest Base Camp Trek – based on the following:
1) Crowds & cost: While I'm sure the latter is also worthwhile, its notoriety makes it busier and pricier
2) Cheap word of mouth: Hikers I'd spoken with who had done both said they'd preferred the Annapurna Circuit
3) Logistics: Everest Base Camp involves a flight into Lukla and the Annapurna Circuit does not (a plus for this unenthusiastic flyer)
In other respects the treks are comparable. They both take about two weeks to complete and their highest elevations are within a few hundred feet of each other, with Annapurna's Thorong-La pass being slightly higher.
With my sights set on trekking and meditating, Nepal was the first stop on my 15-month backpacking trip through Asia. Maybe that's why, of all the places I've visited, it's still my favorite. On the other hand, it could be because of its incomparable mountains, endless trekking options, the calm and good-natured locals, or the country's buddhist soul.
From the second I stepped out of the dingy airport into dusty, lush, loud Kathmandu, I felt good, and that feeling stayed with me throughout my three months there. Everything fell into place: getting permits in Pokhara was quick and painless and I met two trekking companions along the way with whom I started the trek.
The first few hours of one of the world's most epic walks are a complete disappointment.
Day one started out on a dirt road and basically ended on a dirt road, though the adjacent river and giant suspension bridge restored our faith slightly.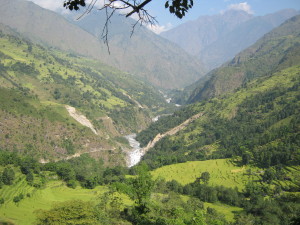 As the days passed, the six to seven-hour walks became more manageable and endless suspension bridges were commonplace. We fell into a daily rhythm involving (literally) jaw-dropping landscapes, tea breaks, sweat and card playing.
On day two, the dense, forested surroundings gave way to massive valleys of rivers and rice fields. From far away it looked like I'd taken a wrong turn and ended up in a scene from The Land Before Time. I sat and gawked at the view, unaware that this was just the beginning.
The drama grew – the mountains soared higher and the rivers roared louder, as I kept one eye on the lookout for dinosaurs. I loved this strange new life.
Our legs were getting stronger, but the ascents were getting steeper. Rice fields transformed into autumn-colored plateaus mangled by craters and rockslides. Soon came aquamarine lakes and snow-dusted villages.
It was beautiful because of its sheer massiveness – I'd never seen mountains this size – but also because of its variety. Photos from this one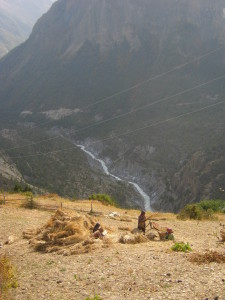 trek look like they could have been taken on four different vacations.
The night before Thorong-La pass (5416m, 17,769ft) it was so cold I couldn't sleep at all. By now I was trekking with two new companions, my last two had stayed in Manang to acclimatize and hope that their bout of altitude sickness would pass (it did). Another pair that we'd met also turned back the day before for the same reason. Luckily, I hadn't yet had any symptoms.
The morning of the pass we got going at about 3am. In the dark it was hard to find the rocky path, which seemed to head straight up the mountain. I focused on my breath and tiny steps – enjoying the sensation of finally warming up.
A little after sunrise we were halfway up. The most challenging portion of the ascent was over. The rest was fairly flat, allowing us to enjoy the view: blue skies and white peaks. I silently thanked the Nepalese weather gods.
At this point I assumed that the best was behind us, but the following days didn't disappoint. The barren, lunar expanse of land that we saw on the opposite side of the pass was, once again, unlike anything I'd ever seen before.
Each day was a high and I never wanted it to end.
A few days later it did, and four years on, reminiscing about it can still leave me daydreaming for hours.
I know I'll go back to to the circuit again, but I've heard that they're in the process of extending a road along much of the path. I'm almost afraid to see how much it's changed. For now, I'll just enjoy that perfect circuit preserved in my daydreams.