Travelling within Mongolia anywhere outside of Ulaanbaatar is not an A to B affair involving departure times, seat numbers, tickets or even roads. It goes something like this:
Ready to head to your next destination you walk to the busiest part of town, this could be the marketplace, post office or village square. You tell locals the name of the city you want to go to and are pointed in the right direction, as you sweat profusely under your down jacket and 40-pound backpack. You'll round a corner and see anywhere from one to a cluster of white, old minivans. Walking up to each of them, you give them the name of the village you want to go to, but are answered each time with a shake of the head. You sit down and wait because your backpack is heavy, and what else are you going to do but buy chips, play cards and wait for another van?
After about an hour, one of the drivers yells "OK," grabbing your bags and throwing them in his the trunk. You climb in, not knowing why he's decided to suddenly grant you access. Has he changed his destination? Or maybe he didn't want you to have to wait in the car? After 2 more hours of waiting, you realize the latter is not the case. The van is almost full but you keep waiting nonetheless.
Once each three-seater bench is carrying four passengers, the driver slams the doors and you start to move. "Finally." You smile and try to get comfortable for the six-hour drive ahead. But you're not moving faster than 10 miles an hour and you think you've driven down this street already.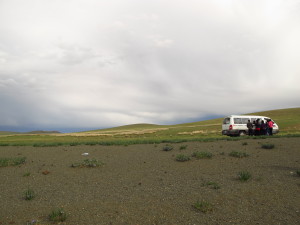 Soon it becomes clear that the point of this detour is to pick up more passengers before leaving the village. You pick up a woman and two children at her home, then you stop at a yurt and load bags of grain onto the roof, then you make a loop back to the marketplace just to be sure no one is waiting. Someone is. A foldout bench appears and the new joiner, joining almost four hours after the first joiner, squeezes in.
And you're off. Doing the math you realize you'll never get to the next village before nightfall and will have to find a camping spot in the dark.
The van smells like vodka and dried curd, a favorite local snack.
You appear to be driving directly through a dessert, no road in sight.
Using fellow passengers as pillows and armrests, it's not long after sunset that everyone is sound asleep. Soon, to escape your discomfort, you join them in dreamland.
After about eight hours and a few more counterintuitive detours, the nearly empty van stops and the driver says the name of your destination. Outside of the window is cold, black nothingness. Wearily, you reach for the door. The driver, in a mixture of charades and sounds, asks if you will sleep here.
"Yes," head nod. "Tent," charades. He shakes his head, taps his chest and restarts the engine again. In five minutes, he parks in front of his own house, leads you to his family's spare yurt and tells you to sleep (charades). You thank him profusely and sleep like a baby.
In the morning, his wife and daughter bring in milk tea and cookies. You ask if you can give them anything in return, they smile and say the equivalent of 10 dollars each. You pay and with more smiles, nods and waves, you're on your way.
Though never predictable and seemingly schedule-less, using public transportation in rural Mongolia always did get us to our destination. There was the occasional village with no vans, where paid hitchhiking and carpooling is the norm and almost an institutionalized system. We noticed that all the vehicles tend to break down frequently. Old, Russian and built to last, they're usually up and running in no time – after a bit of tinkering and pouring cool river water into the engine.
For a short trip, renting a jeep is a more efficient, albeit expensive, option. If you have the time, travel local, but bring a tent. There's no need to plan ahead once you leave Ulaanbaatar. At that point, all you can do is go with the flow, follow the locals and enjoy the (crowded) ride.