When choosing between a vacation in August and no vacation at all, the latter can sometimes feel like the lesser of two evils. It's monsoon season in India and Southeast Asia, the (accessible) Middle East and North Africa are debilitatingly hot and southern Europe is overrun by tourists. Northern Europe is a terrific choice if you're rich or don't mind living like a pauper for a few weeks (we didn't). Alas, sometimes we don't have a choice and are forced to travel in the high season.
Last summer, I was still in the throes of change, transitioning from employment to funemployment to eventual self-employment. Needless to say, budgeting was of the essence and we were looking for an affordable region that we could reach from Luxembourg by car.
Destinations like Portugal, Germany and the Balkans were in the running. Fast forward to a week before our two-week trip and a decision was nowhere to be found. We didn't explicitly decide to go to France, but that's where we ended up. Horror stories about the Côte d'Azure in summer convinced us that the Alps were our best bet.
Alps Itinerary Overview
Day one: Dijon & Yvoire
Day two & three: Hiking in the Portes du Soleil region
Day four: Annecy
Day five & six: Hiking in Haute Maurienne
Day seven: Susa & Briançon
Cost: If you camp, the entire week will cost around €300 or $330 (food, gas, maps, etc.). It's not an expensive region, even if you choose to stay in huts.
Note: It goes without saying that you should start each morning with a trip to a pâtisserie.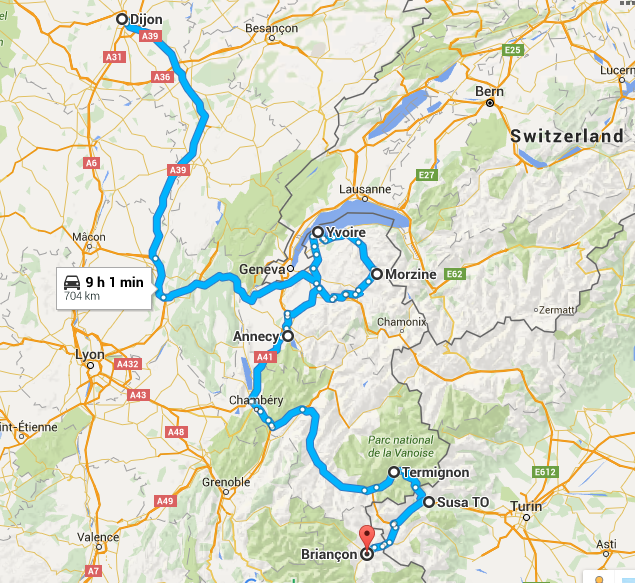 * The 9hr, 704km total is for the entire route from Dijon to Briançon
A Week in the Alps for the Unmotivated,
Disorganized, Non-mountaineer
1) Dijon
Yes, I know, Dijon is not in the Alps, but chances are you're traveling from Paris or another European hub (like Luxembourg!). This small eastern French city has more to offer than mustard. Pleasantly buzzing and accidentally authentic, even in August, Dijon makes for a pleasant brunch or afternoon stop. It offers a city experience without the crowds of Lyon. Enjoy the functional covered market and stock up on gifts to bring home: spices, truffle oil and, of course, its namesake mustard.
2) Geneva
Just kidding. SKIP GENEVA, unless the sterile, Soviet-esque, banking atmosphere is your thing. The $40 motorway car sticker and currency change just add salt to the wound.
3) Yvoire
An easy village to miss, Yvoire sits on Lake Geneva, a two-minute walk down from the main road. Signs and a parking lot announce its existence to passerby. The tiny, medieval fishing village seems like the perfect tourist magnet, a place where overloaded buses would dip in and out on an hourly basis. However, our evening visit was relaxed and uncrowded.
The village's handful of lanes roll down to the harbor, full of boats and lone fishermen perched on docks and seawalls waiting for that final bite that will let them go home. A calm evening in Yvoire with an ethereal sunset on the lake and dinner on a leafy terrace seems almost unreal. At bedtime you can stumble across the road to a convenient, plain campground. The next morning take a swim in the lake at the small beach near the harbor.
4) Morzine: Portes du Soleil
Your one-stop-shop for hiking in Les Portes du Soleil, Morzine's tourist office takes lost travelers and transforms them into excited day trekkers with elementary maps and a solid itinerary. The town itself is primarily a winter sports hub that transitions into a less crowded, though equally tourist-friendly, summer adventure spot for hikers and mountain bikers. Park in the free 24-hour covered parking garage, chat with the tourist office reps, buy a map and head out for the day. We chose the Pointe de Ressachaux, a straight-forward, 1km ascent through forests and high-altitude pastures. There are two different ways up, both steep and leafy, making the descent the toughest part of the six-hour trip.
5) Annecy
Sigh, Annecy is lovely. Sitting on a crystal-clear lake surrounded by wooded, mountainous beauty, Annecy is a down-to-earth, real town with an unreal backdrop. Explore its cool shops and equally cool cafes. If views of Mont Blanc are nagging at you, then trade Annecy for Chamonix. The mountain is spectacular and gondolas make high-quality hikes quickly accessible, but keep in mind the crowds, traffic and uninspiring town itself.
6) Termignon: Haute Maurienne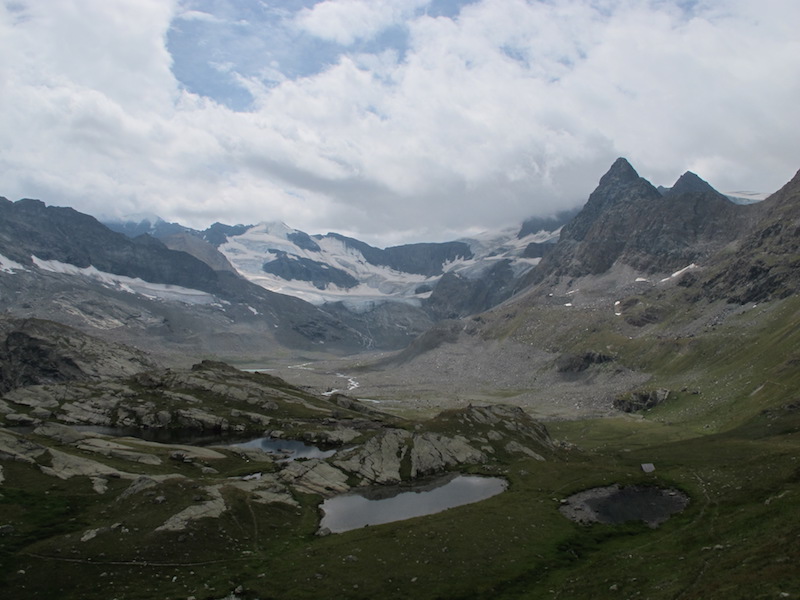 Another small village built for winter, Termignon offers comfy, riverside campgrounds. Neighboring Lanslebourg-Mont-Cenis is the official gateway to the Haute Maurienne mountain region. The helpful tourist office can give you a map and a week's worth of hiking ideas, including stays at one of the many secluded mountain huts.
Using a map, we headed down a one-lane valley road that passes long-forgotten farming structures and left the car at L'Ecot parking area near the ruins of a medieval town. The beautiful 1.5 to 2.5-hour loop to Gorge de la Reculaz is well worth the sweat for the glacier-coated peaks and waterfalls. The refuge at the top boasts ridiculous views, fresh food, pie, coffee and beer. What more do you need? Don't ask me how they get it up there. The return trip is fairly steep and certain portions require you to descend backwards with help from permanently secured wires. It's not super difficult, but also not ideal for children.
There are over 100 marked trails in the area of varying difficulty. Most promise lush valleys, glaciers and snowy peaks in every direction.
7) Susa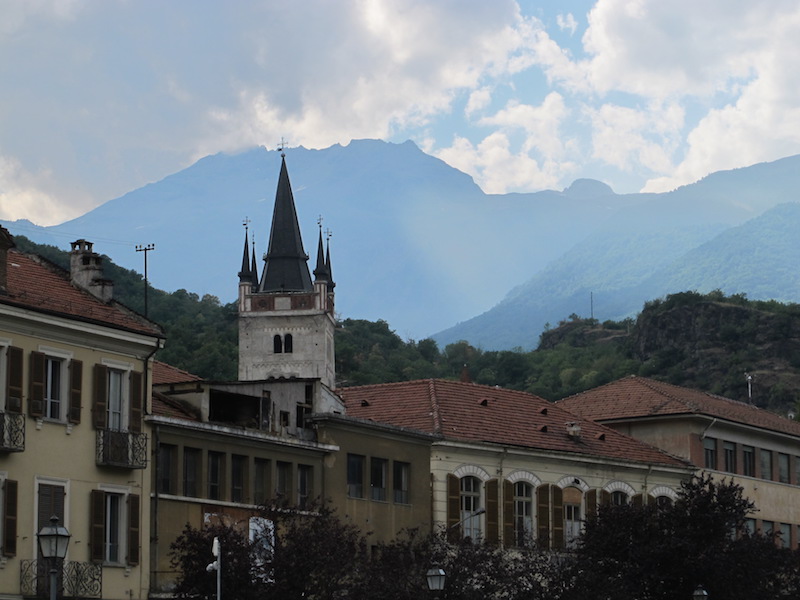 Crossing borders overland never gets old. Drive past the massive Mont Cenis Lake before dropping down into the Italian Alps. Watch the culture and architecture slowly shift. Ancient Susa is centered around a river and surrounded by mountains (I know it sounds repetitive, but I promise you'll never tire of the views). Even in summer's heat, the dramatic landscape reminds you that winter is never far away. The quick switch to Italian cuisine and scenery make Susa a worthwhile, if slightly inconvenient, stopover on your way to Briançon.
8) Briançon
A well-known tourist destination in the Alps, Briançon has won fans over with its walled, Italian-inspired old town, fortifications, dramatic positioning on a small hill and views of surrounding peaks. Other than the potential crowds, there's not much you won't like.
Et voilà! A week in the mountains. Now head on to your next destination. Lyon, maybe? Italy? The Côte d'Azure? (If so, fair warning: you won't be alone.)
---