One of my favorite cities of all time is also one of the easiest to overlook. Is it a must-see? Probably not. Is it beautiful? Not particularly. Is it packed with sites? Eh, maybe a few.
It's kind of dirty, kind of sprawling and kind of…rough around the edges. The graffiti is a little too gritty to pass for trendy and the storefronts are more practical than quaint. At first glance, it's just another postwar European city. What can I say, love is blind, and Cologne stole my heart.
Until May 30, 1942, it was as full of beauty and history as any place you'd find in France or Italy. But on that mild spring day bombs rained from the sky, 1,500 metric tons of them, 30 explosions a minute for over an hour.
When the dust settled, 90% of Cologne's medieval center was gone and over 600 acres had been decimated. All that was left, looming over the remains of its ruined city, was the 13th century Cologne Cathedral, der Kölner Dom.
Today, this Gothic basilica still towers over the city, with the height of surrounding buildings regulated so as not to compete, giving the impression that the rest of the skyline has been shrunk. One of Germany's most visited attractions, it became a UNESCO World Heritage Site in 1996.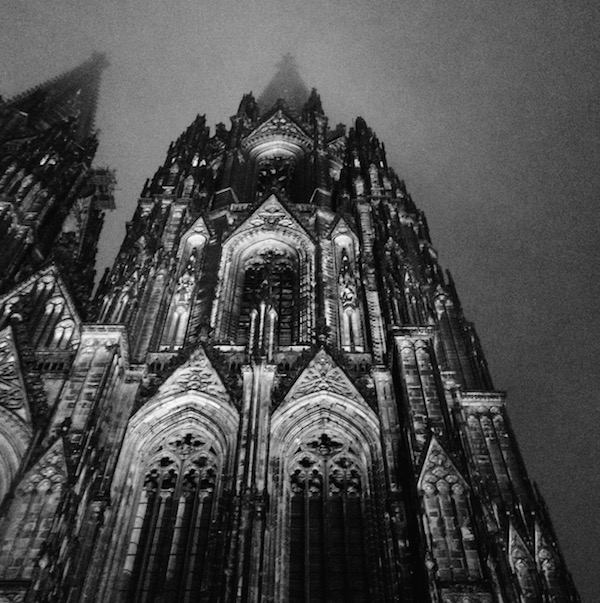 The central train station's main entrance spills out at the foot of the Cathedral. Every time I exit, probably on my cell phone or drinking a coffee, I have to stop, pleasantly startled by the shear size of its spires, the tallest of which is 515ft (157m). It's fun standing to the side and watching the look of awe on the faces of those exiting the station, whether first-time visitors or commuters who had forgotten its beauty overnight.
An average itinerary has travelers touring the Cathedral, wandering the narrow streets in the old town, strolling along the Rhine and then continuing on their way. There's nothing wrong with this plan, and it probably makes the most sense. Needless to say, however, none of these sites have anything to do with why Cologne is a gem.
First off, it's the unofficial "gay capital" of Germany, which is usually a good sign, representing an open, diverse culture. Young, alternative families relax on the city's many lawns, slackliners  balance barefoot between two trees and the smell of würst wafts over from the inevitable bbq nearby. At the first sign of rain, the crowds disappear. When the sun tentatively returns, the reverse happens and outdoor terraces are full again in an instant, no matter the temperature.
Tradition is holding on tight — maintaining a happy balance between young and old, alternative and old fashioned — and the slurred Kölsch dialect is still the predominant background noise in select pubs. Based on my time working in a cafe where we had to brace ourselves for the 3-5pm rush, I can also confidently tell you that Kuchenzeit (cake time) is alive and well.
Cologne is sometimes referred to as the country's most southern city, not of course because of its geographic location, but because of its relaxed vibe. So while I wouldn't tell my friends that it's an essential stop on their travels, it's one of the first cities I'd suggest if they were contemplating a move. It is quintessentially livable.
A tourist with two days to spare will most likely miss the all-night parties in Ehrenfeld, the relaxed outdoor seating in Brüsseler Platz or Stadtgarten, Stadtwald's forested running routes, the best Italian ice cream parlors and the killer brunch locales in the city's south. Someone living there though, can scratch through the surface and fall in love with the diamond in the rough.
If you do visit, swing by a kiosk and grab a Kölsch, then make yourself comfortable on a patch of grass in one of the parks for a quick taste of local life.
While Cologne is less than a third the size of Berlin, they have something in common that can only be described as coolness. There's the second-hand clothing stores, street markets, outdoor concerts, craft beer, stylish Mr. Moms, underground hiphop venues, warehouse parties, universities and affordable apartments.
The biggest difference is that Berlin is fully aware of how cool it is — its jeans, mismatched socks and glasses just slightly too expensive to look original.
Cologne hasn't yet grasped its coolness (although it's on its way). The shady plazas and crowded bars are a tad too neglected to be labeled pretentious, making them that much more endearing.
The casual fashion, laid-back vibe and integration of the alternative give you the sense that here, authentic still reigns over hip.