Angela Carter once said that "Cities have sexes. London is a man, Paris is a woman, and New York is a well-adjusted transsexual."
There's no doubt about it — Paris is svelte, sophisticated, captivating, provocative and drop-dead gorgeous…and she knows it.
As with New York, any attempt to list all of the worthwhile exhibits, restaurants, shows and museums in Paris is a losing battle — one that barely scratches the surface and is bound to fall short.
Yes, it's rich with history, culture and all that good stuff but I'm going to argue that that's not what makes Paris legend.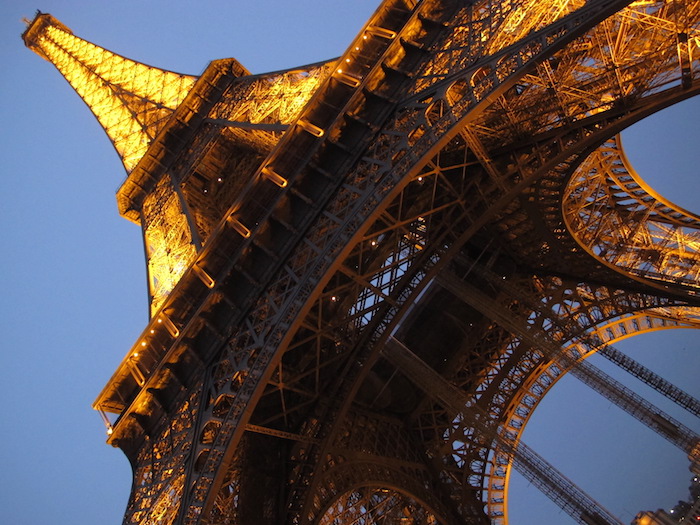 Blasphemous I know, calling some of the world's finest museums, eateries and sites superfluous, but if anything it's a testament to the city's substance beyond the rotating concerts and food festivals.
Each of our trips to Paris is unique and never defined by one experience. Our days consist of little more than morning strolls through the markets and gardens; slow, wordless coffee breaks on outdoor terraces; afternoon walks from neighborhood to neighborhood; and wine and cheese picnics on a canal or in cozy apartments with friends.
A fly on the wall would surely fall asleep.
(For the sake of honesty I should note that the morning stroll is usually done with an eclair in hand.)
When it's dry we wander from the theater district of the 14th arrondissement, through Luxembourg Garden, sometimes swerving to pass by the Pantheon, sometimes the Louvre or maybe Notre Dame as we meander along the Seine to trendy Le Marais, Place de la République, Belleville or the 10th.
Each walk is different, possibly ending with tea at the Grand Mosque's authentic outdoor terrace, an Ethiopian snack or a latte at a corner cafe.
If it rains we might head over to one of Paris's many covered passages where we can still sit "outside" in the arcade. During the holidays they become a glittering hiatus from the gray of winter, far superior to Paris's Christmas markets.
Non-Parisian French are quick to quip that Paris is not France and Parisians proudly assert the same. From their inflections to their style, the city is a world apart. To learn more about the fashion you could try to fight for a coveted ticket to a runway show, or you could just grab a well-placed outdoor table and have a front row seat to the real show: the sidewalk.
You'll be so enthralled that your Parisian waiter's stereotypic indifference will hardly phase you.
Nighttime outings roll into the mornings. Last time it was because a bar legally had to close so the owner pulled the shutters shut and invited all of his guests down into the basement for an impromptu musical performance. Another time it was because we simply couldn't bring ourselves to trade in the appeal of the calm, empty streets for sleep.
Even without the fancy French cuisine, museum day passes or ballet tickets, Paris is a gem — not that you shouldn't treat yourself to all three: The Louvre, Quai Branly Museum, Musée d'Orsay, Centre Pompidou and Louis Vuitton Foundation are all worth your time and seeing Pina Bausch's Orpheus and Eurydice ballet at the grand Palais Garnier is something I won't forget any time soon.
What I'm really trying to say is that Paris is foolproof, no insider information necessary. A nighttime picnic on the banks of Saint-Martin Canal on a warm evening is simply perfection. Come without plans, accomplish nothing and fear not, the city will work its magic.
But like all urban areas, Paris has a dark side, maybe even more so than others. Immigrant families sleep on mattresses near busy metro stations, regularly jarred awake by drunken teens entertained by accosting them. Side streets host dozens of tents that the city's homeless call home. Drug attics curl up on subway vents to stay warm. Established slums hug the river banks on the outskirts of the city.
Paris will delight, but also shock. An extremely multicultural city and one of the world's most densely populated, signs of its challenges are visible on almost every block.
Its diversity is what makes it complete. You will come for the art and culture, but you'll leave with a better understanding of the world.
I've been trying to put my finger on what makes the City of Light so special, the secret behind the world's love affair with Paris. It could be the lingering energy of artists past — eccentric creators who found a community that made them feel like they mattered in an indifferent world.
I think it's because when you're there you feel like you're at the center of everything and every moment that you're not you know you're most certainly missing out.
If Hemingway, Picasso and Fitzgerald found what they were looking for in Paris, maybe you will too.