Maastricht is a small Dutch city of 120,000+ residents wedged between Germany and Belgium. It bears the architecture and atmosphere of both a small Belgian village and an elaborate Dutch city, with a twist of modernity.
Built around the Meuse river in Limburg, the city is sprinkled with medieval ruins, an odd but beautiful backdrop to the lively student scene.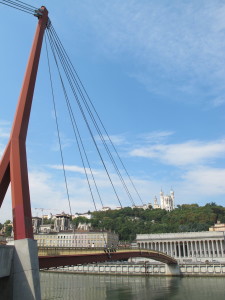 I know all this now, but until last week, I'd never given Maastricht much thought. I knew it only as the city that Germans and Luxemburgers used to head to when facing a marijuana shortage.
My boyfriend needed a new suit and, tired of our normal destinations of Metz, Arlon, Trier and Cologne, I proposed Maastricht, an easy two-our drive away. I was surprised by the vigorously positive responses I received when telling friends my idea: Go! You'll love it. Tons of shops and cafes. Stay the night!
Maastricht's city center is a network of narrow shop-lined streets that lead from one shaded plaza to another. We spent much of our time sitting out on cafe terraces, for example at plazas Onze Lieve Vrouweplein and Sint Amorsplein.
We happened to visit the weekend of Maastricht's annual four-day food festival so most hotels in the city were fully booked, forcing us to stay in one across the river.
Though loads of fun, the food festival was more of a platform to showcase local restaurants. We bought tickets that let us sample a host of miniature gourmet meals that we could otherwise never afford. All the snacks were so delicious that I never managed to snap a photo before they had vanished from my plate. Fries with truffle dip, caramelized cheese, marinated veggies, mmmmm…where was I?
Saturday night's festivities culminated with a lively outdoor concert, including everything from kitsch Sinatra classics to contemporary electronic hits. No matter what sounds were coming from the stage, the audience was loving it, making for a lively atmosphere.
We spent our day and a half leisurely exploring the narrow streets, visiting open-air markets and sneaking into the many ancient churches. Every couple of hours came a cafe stop, either on a plaza or small street like Koestraat (check out the bakery at the end).
It felt like there were more cafes than people, so I wasn't surprised to learn that there is one cafe per 350 inhabitants, nearly triple the Dutch average. There are some coffeeshops but they are few and far between in comparison to Amsterdam. Legally, there is a strict (and controversial) ban on selling marijuana to foreigners in Maastricht, but in practice, I've heard that it is still fairly relaxed.
On Sunday morning we stopped at a cafe for breakfast. The frequent, friendly interactions between strangers and the loud happy conversations around us reminded me why Dutch culture has such a favorable reputation.
Most of the pastel-clad seniors sitting out on the terrace looked liked they'd come straight from church. A drunk, rough looking man passed by with a beer in hand singing a Dutch tune to nobody in particular. Rather than shooting judgmental stares, the whole terrace enthusiastically joined in, providing him with his own impromptu chorus of backup singers. When he rounded the corner and was gone everyone quickly went back to their cheery, boisterous breakfasts.
We sat there for a couple hours, loving the sunshine and the vibe of Maastricht, a place where people spontaneously burst into song.
TIPS:
Maastricht is just thirty minutes from both Liege and Aachen, so you could easily turn this visit into a tour of all three of these amiable European cities, which are slightly more removed from the main tourist circuit.
SLEEPING:
I'd recommend looking for a bed and breakfast or an inn, rather than a hotel, in the city center. They are often cheaper, quainter and more central.
Guesthouse Maastricht was my first choice but it was booked. The prices are extremely reasonable (€57-67 for a double) and its location couldn't be more central. I spoke with the owner over the phone and she was enthusiastic and helpful, even trying to help me find another guesthouse in the area. www.guesthousemaastricht.nl
Here is a local website with bed and breakfast listings. I usually make my best finds on local sites rather than mass sites like Expedia. It's worth browsing through the entire Vvvmaastricht site. They also have links to hotels and campgrounds. www.vvvmaastricht.nl/en/hotels/bed-and-breakfasts.html
If you want a hotel, the Hotel Au Quartier is in a perfect location – in the center but on a quiet side street. I didn't go inside, but it has received decent reviews.
EATING:
Many of the restaurants looked promising, but we opted for De Comedie on the Onze Lieve Vrouweplein plaza. I can recommend it for the variety of its menu, outdoor seating and yummy cuisine. My truffle vegetable pasta was great, but I wished it had been a bit truffle-ier (a common complaint of mine).