The input is constant: the smell of burning flesh; the smorgasbord of curries (heaven for your taste buds and hell for your stomach); buzzing street markets; starving street puppies; overpacked buses; and narrow mountain passes.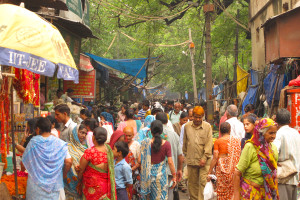 After nearly four months, I'd learned that India both heightens senses and numbs them.
Visitors quickly realize that the tourist tables have turned. Here, they will be the observed, not the observers.
India is alive and wants to get to know you as much as you want to get to know it. It comes on strong, like an awkward love interest, none of the feigned apathy that one might find elsewhere (*cough*Paris). But soon you accept its quirks and start enjoying its company.
Every week brings new stories that, at the beginning, seem exciting and absurd, but by the end, hardly feel worth telling.
For example, once I was on a bus stuck in traffic, the source of which was a medium-sized elephant that couldn't quite keep to the shoulder. Another time I was in a rickshaw in Delhi and a thief on a motorbike grabbed my purse and sped off. The only hitch was that the purse was hooked across my body, turning it into a ludicrous, high-speed tug-of-war. Regularly, I was asked to take photos with people or be photographed holding each of their children. Reading back through my diary I come across entries recording such stories using wide-eyed adjectives like bizarre and marvelous. I didn't yet know how commonplace these encounters would become.
Any situation, no matter how outlandish generally concludes with a shrug and the reminder, "It's India," and it's not just foreigners who use this phrase. Locals do too. Even those who have never left the country know that their homeland is somehow extreme. Perhaps this is evident in the tight-lipped look of shock plastered on the faces of overwhelmed new arrivals.
This self-awareness is something that repeatedly caught my attention, especially when I was travelling alone. Knowing that India is a lot to handle, it was as if the community made it their responsibility to protect me from itself.
For every heckler there was a cheerleader, leading me in the right direction and blocking the onslaught of stares. Whenever push came to shove and I felt overwhelmed, spontaneous aid was there, either in the form of a tiny toothless woman pulling me away from trouble to the correct bus stop, or a university student stepping in to see if I was alright.
Everyone I spoke with seemed to have an honest and accurate view of the strengths and weakness of the only country they'd ever known, including their image abroad.
I remember once hitchhiking with a girl I'd recently met. All buses and taxis were cancelled that day. After driving us for over an hour and dropping us off at our destination, I asked the two young men who'd driven us if I could give them anything in return. "No," they answered. "Just tell people in your home that India is not a bad country."
So for the record, India, with all it's overstimulation and hardship, is far from a bad country. There's no "light" version, no way to get acquainted with India in small doses. The only worthwhile option is to surrender all notions of personal space and get ready to fall in love.